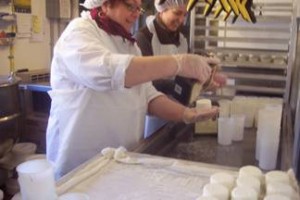 Dairy and Cheese Production internships are six, eight or ten weeks long and include  the following areas: General animal care, daily care, milking, milk handling, small herd management. Stipend is $500.00 upon full completion of the six week program, $800.00 at the full completion of the eight week program and $1000.00 at the full completion of the ten week program. Internships average between 3.5 to 4.5 hours per day- some 6 hour days are required.
Upon completion, the intern will be knowledgeable in these areas:
General goat nutrition and seasonal variance in diet
General maintenance including hoof trimming
Medications, vaccinations and injections
Housing maintenance
Herd management
Milk production (use of equipment, cleaning practices, standards, state regulations and requirements)
Milking technique
For more information, please email Paul Trubey at ptrubey@earthlink.net or call 860-208-2887.